CAR INSPECTION
FOR A SMARTER, SAFER, MORE RELIABLE RIDE
WHY IS A VEHICLE INSPECTION NECESSARY?
A vehicle inspection is one of the best and easiest ways to reduce your chances of unexpected breakdowns and expensive repairs. By catching potential issues early, a car inspection will not only save you time, money, and headaches, it'll also help extend the life of your vehicle.
HOW OFTEN TO GET YOUR CAR INSPECTED
WHAT'S IN OUR COURTESY CHECK VEHICLE INSPECTION
WHAT'S IN OUR COURTESY CHECK VEHICLE INSPECTION
With every visit to Tires Plus, your car receives a free courtesy check inspection. A technician will evaluate the overall condition of your vehicle, specifically checking for problems with critical vehicle parts and systems. Early opportunities for intervention spotted in a courtesy check can help save you from needing serious service later.  Each time you come in for service, we'll visually check your car's: 
Tires
Lights
Fluid Levels
Wipers
Belts
Battery
Hoses & more
WHAT'S IN OUR COMPLETE VEHICLE INSPECTION
WHAT'S IN OUR COMPLETE VEHICLE INSPECTION
Your vehicle manufacturer also recommends a more comprehensive inspection of your vehicle's major systems at regular intervals. At Tires Plus, we also offer a Complete Vehicle Inspection that goes far beyond the visual courtesy check. A Complete Vehicle Inspection includes:
Checking steering and suspension for damaged shocks, worn bushings, and vehicle bouncing
Testing tire pressure, tread depth, and identifying irregular tread patterns
Popping the hood and review several items from accessory belts to steering hoses are in working order
Checking of exhaust systems, brakes, and other systems according to vehicle manufacturer's specifications
Investigating any unusual noises or smells from your vehicle
Plus, everything else that's included with a Courtesy Check
Complete Vehicle Inspections are not the same as a State Inspection. For State Inspections, you will need to call your local Tire Plus to find out what is offered near you. When you need assurance that your car is the best it can be, count on Tires Plus professionals. During your next visit, ask us for a complimentary printout of your vehicle manufacturer's recommended maintenance schedule.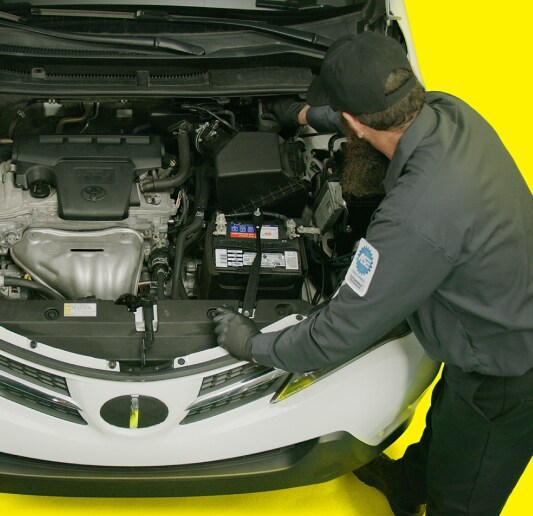 SIGNS YOU MAY NEED AN INSPECTION
Maybe you've noticed your vehicle isn't running as smoothly as it used to, something seems to be wrong with your windshield wipers, or your vehicle had a recent breakdown. In these cases, it's definitely time for a vehicle inspection.
But what if you're not sure if you need an inspection? It's a good idea to set up a vehicle inspection appointment if…
One or more warning lights are on: Warning lights are how your car communicates something's wrong from serious engine troubles to issues with your battery, transmission, tires, and more. Spotting warning lights is a clear sign it's time for an inspection.
Unusual noises from your vehicle: Hearing the squeak of worn brake pads, rumble of a leaky exhaust system, or other unfamiliar sounds could mean your vehicle is in need of service.
Your car won't start on the first try: Whether it's a faulty ignition, defective fuel system, or sensor issues, our technicians can help diagnose your start-up struggles.
Your car pulls right or left: Drifting can be a sign you're driving on uneven tire pressure or your wheels are out of alignment. With an inspection you can get to the root of the issue.
If you notice one or more of these signs, head to your nearest Tires Plus location for a free car inspection. If the inspection does not provide the answer, the technician may need to perform a more specific diagnosis and help you identify any problems before they become costly repairs.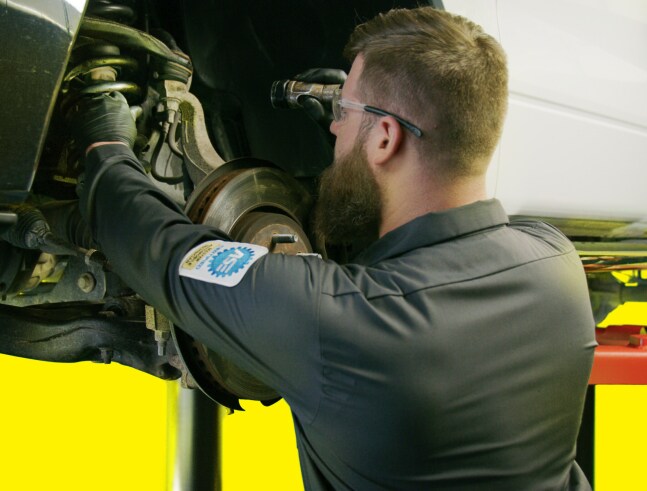 FIND A VEHICLE INSPECTOR
When you're faced with car trouble, head to your nearest Tires Plus location for a free courtesy inspection. Or, find even greater peace of mind with a comprehensive vehicle inspection. Preventative maintenance can help keep you safe on the road and your vehicle running for many miles to come.
To ensure your car is up to the manufacturer's standards, Tires Plus professionals will get your car set up on the recommended maintenance schedule that's designed specifically for your vehicle.
WE'LL GET YOU BACK ON THE ROAD
Quality people, parts and service — these are the three main reasons we think we're the best when it comes to batteries and electrical systems. We have ASE–certified technicians and always follow Motorist Assurance Program (MAP) guidelines when maintaining and making repairs, making sure your vehicle will start. We offer a complete line of Interstate Batteries, and we sell more of their battery products than any other retailer. Plus, our service is unmatched — we make it easy to buy, set up an appointment and install your battery and electrical systems on your schedule, with affordable pricing.
On-Time Guarantee
Your time is valuable. So we guarantee your car will be ready when we say it will, or we'll give you 10% OFF your next purchase.*