Free Tire Rotations
Manage Tire and Tread Wear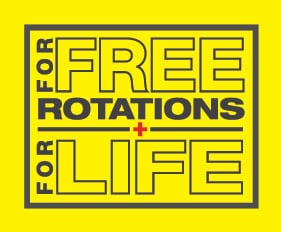 FREE TIRE ROTATIONS FOR LIFE*
Tire tread wears differently depending on where they are on your vehicle. That's why tire rotations, like alignments, are so important to extending the life of your tires. And we want your tires to last as long as possible. That's why there are two ways to get free rotations for life on your tires at Tires Plus.
Tires Purchased at Tires Plus Stores
We offer free rotations for life on every single set of tires we sell.
Any Bridgestone or Firestone Tires
And if you're riding on Bridgestone or Firestone tires, we'll rotate those for free, too. Even if you got them somewhere else. So when it's time for new tires, we'll show you options... then you can pick the ones you want.
Schedule an appointment at your local Tires Plus for professional service and repair. Your tires will thank you! 
WE'LL GET YOU BACK ON THE ROAD
Quality people, parts and service — these are the three main reasons we think we're the best when it comes to batteries and electrical systems. We have ASE–certified technicians and always follow Motorist Assurance Program (MAP) guidelines when maintaining and making repairs, making sure your vehicle will start. We offer a complete line of DieHard Batteries, and we sell more of their battery products than any other retailer. Plus, our service is unmatched — we make it easy to buy, set up an appointment and install your battery and electrical systems on your schedule, with affordable pricing.
On-Time Guarantee
Your time is valuable. So we guarantee your car will be ready when we say it will, or we'll give you 10% OFF your next purchase.*
*Tires purchased at Tires Plus include tire rotation services for the lifetime of the tire. Non-transferable. Rotations will also be performed on any Bridgestone or Firestone tire regardless of purchase location. Applies to tires installed on private passenger vehicles. Valid at company-owned Tires Plus locations.