DieHard® Car Batteries Near Me
Make an appointment to get your replacement battery installed with America's most trusted auto battery*. DieHard batteries are designed for the high-performance demands of today's vehicles. They're no ordinary battery, they're extraordinary.
LIMITED TIME OFFERS ON BATTERIES
Send This Coupon To Your Phone
offer-details
By providing your phone number, you consent and agree to be contacted at such number by [Bridgestone Retail Operations, LLC ("BSRO")] [or one of our affiliates or partners] for purposes of sending you the link. The number will not be used for any other purpose. Carrier charges may apply for receiving text messages. You acknowledge and understand that providing your consent to receiving such message is not a condition to obtain products or services from BSRO
AUTO BATTERIES & BATTERY SERVICE
Your car battery and electrical system are like the heart and soul of your vehicle. Take care of them and they'll make sure your car starts every time you turn the ignition. Visit your local Tires Plus for top-notch car battery replacement, testing, and service. Avoid the inconvenience of a dead battery and damage to your electrical system by replacing your car battery at the right time. We keep car battery prices low with special, internet-only pricing!
We Have the Right Car Battery For You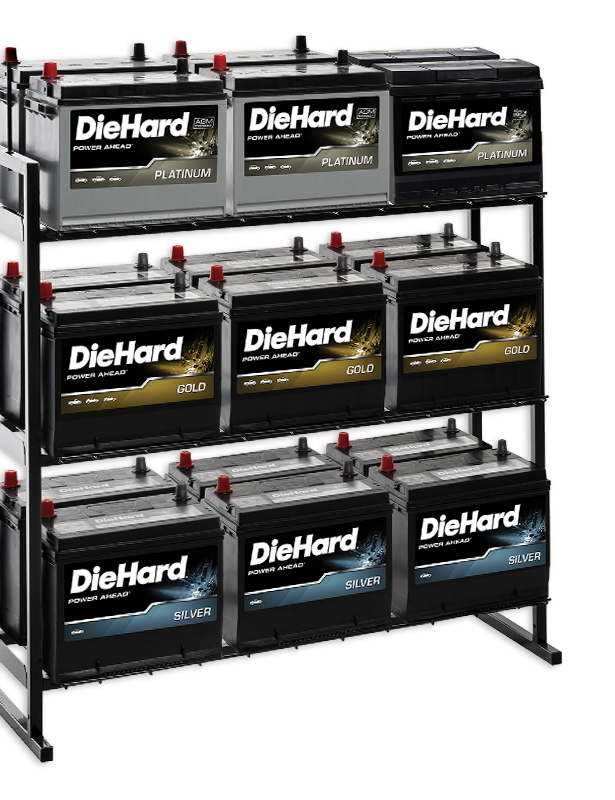 DieHard Platinum AGM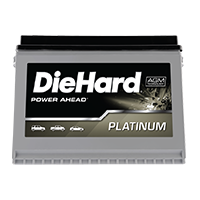 DieHard Platinum AGM
3-year Free Replacement Warranty
Lasts up to 2x longer than standard flooded battery.
Will This Fit?
DieHard Platinum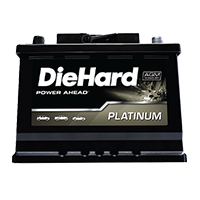 DieHard Platinum
4-year Free Replacement Warranty
Up to 30% more cycle life than other standard flooded batteries.
Will This Fit?
DieHard Gold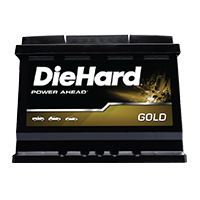 DieHard Gold
3-year Free Replacement Warranty
Nearly 3X more corrosion resistant.
Will This Fit?
DieHard Silver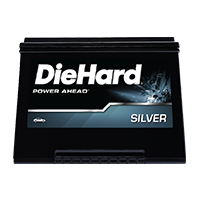 DieHard Silver
2-year Free Replacement Warranty
Maintenance-free for maximum convenience.
Will This Fit?
Get the Right Battery at the Right Price From Tires Plus.
Restrictions Apply. DIEHARD and the DIEHARD LOGO are trademarks of Advance Stores Company. *Based on survey of nationally representative sample of over 1,200 drivers conducted in 2021 by dataDecisions Group, an independent research company.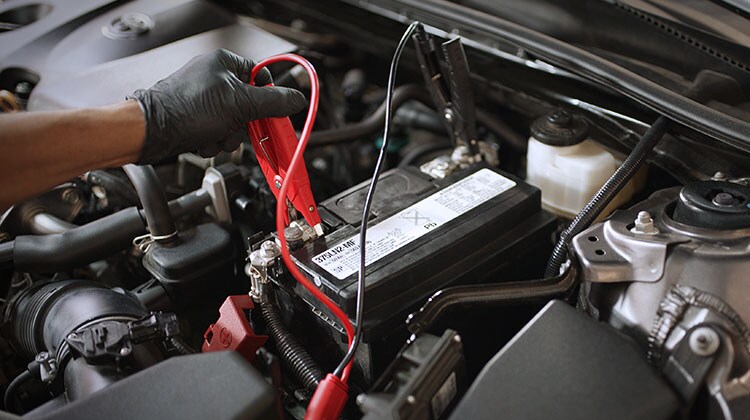 Get A Free Battery Test Today
Stop by your nearest Tires Plus for a free battery check. One quick diagnostic test could save you from getting stranded with a dead battery at the worst possible time! We'll let you know how much life may be left in your battery, along with an estimated temperature at which it might fail. No time to swing by? Try our virtual car battery tester right now!
Schedule an Appointment
Virtual Battery Tester
How Much Life Is Left In Your Battery?
Where Can I Buy A Car Battery Near Me?
When your vehicle needs a new battery, we can get you the right one at an affordable price. When you buy a new battery from us, we'll always replace it with one that meets the vehicle manufacturer's recommendations. Use our Battery Selector (near the top of this page) to see battery prices, as well as a complete list of the features and benefits for each battery. Plus, we offer special internet–only pricing for batteries, so you're sure to get a price that won't break the bank.
The Ultimate Guide to Auto Batteries
There's more to caring for your car battery than having it tested and replaced. Understanding how your battery and electrical system work can help you save money and make the best decisions for your car in the long run.
Your Car's Electrical System
The electrical system includes three main parts — battery, starter and alternator. These components help start your car's engine and keep it running. If one of these parts isn't working right, your car won't start or run properly. So this is where our electrical system check comes in handy. We can pinpoint problems when they occur (or before they occur!) and provide all the services you might need to help get you back on the road.
1- The Battery
Your auto battery converts chemical energy into electrical energy to make your vehicle run. The battery provides energy to start it up, and also helps stabilize voltage to keep your engine running. When your battery's power is low, or its cables or terminals are loose, your vehicle probably won't start. (Unfortunately, your vehicle generally gives very few warning signs before it fails.) To help, Tires Plus offers an early detection test that helps determine if your battery is beginning to fail.
2 - The Starter
Although the battery supplies the power to start your vehicle, the starter is really what gets the engine going. The battery supplies a small amount of power to the starter motor. The starter then rotates the flywheel, which turns the crankshaft and begins the movement of the engine's pistons. It's difficult to determine when a starter will fail, but an electrical system check at Tires Plus can determine the warning signs. We know what's happening by checking if the starter is drawing the proper amount of current. Excessive current draw will indicate a worn starter, while a low current draw indicates corroded cables or connections. Too much or too little current can expose signs of a bad starter — so the professionals at Tires Plus can fix it!
3 - The Alternator
When your engine is running, the alternator keeps the battery charged and the electrical system going. Your car can start with a faulty alternator, but it won't be able to run for an extended period of time. If the alternator requires replacement, your vehicle's electrical system will perform erratically, its battery will discharge, and eventually your engine will lose power. These are signs of a bad alternator. A complete electrical system check from Tires Plus will tell you whether the alternator is generating the proper amount of current and voltage — and let you know before your alternator fails.
Signs Your Car's Electrical System Is Failing
Electrical systems rarely fail — but auto batteries, starters and alternators are not designed to last the life of a vehicle. If you keep your vehicle long enough, they'll eventually require replacement. Tires Plus won't let failure take you by surprise. Come to us and get your system checked — we can help prevent you from being stranded because of a failed part. If you're unsure if your vehicle needs a new battery, schedule a free battery test, electrical system maintenance or diagnosis.
In most cases, your vehicle gives you very few warning signs that electrical system components are coming to the end of their life cycle. Here are some signs that your vehicle's electrical system may not be functioning properly:
No crank or slow crank when you turn the ignition key
An electrical system dashboard warning light (usually a battery) that remains on when driving
Loss of power in accessories or erratic electrical system functionality
Blown fuses
How Long Do Car Batteries Last?
The average car battery life is 3 to 5 years. However, auto battery quality, driving habits and driving region have an impact on a battery's life. For example, if you take many short trips (less than 20 minutes), your battery won't have enough time to recharge fully, which can shorten the battery's life. Also, exposure to extreme temperatures — both hot and cold — can also shorten its lifespan. This map gives an indication of how long batteries will last in different climates.
Try our Virtual Battery Tester to get an idea of how long your original auto battery might last. If your battery is near the end of its estimated life for your region, Tires Plus offers a choice of batteries to fit your vehicle.
Tips for Getting More Car Battery Life
There are certain preventative measures you can take to get the most out of your vehicle's battery and electrical system. Here are some tips:
Avoid leaving on lights and accessories when the engine is not running — this will drain your battery.
Take fewer short trips to prevent inconsistent battery charge levels.
Make sure your vehicle's battery terminals are kept clean and free of corrosion.
Always have a qualified professional maintain your electrical systems.
Have quality replacement parts installed when existing electrical system parts fail.
Our Corrosion Protection Package, Battery Terminal cleaning service, and quality replacement parts can all help you get the most out of your existing electrical system parts — and provide you with quality replacement parts when original components fail.
Early Detection Means Early Prevention
Our technicians use special Early Detection analyzers to give your battery a free check–up every time you bring your vehicle in for tires, maintenance or repairs. This equipment lets you know if your battery is providing adequate power and at what temperature it could potentially fail. After your battery check we'll give you a printout with one of three possible results:
A "Good" result gives you the confidence that your vehicle's battery is functioning properly.
A "Marginal" test result indicates that your battery is functioning properly, but its life expectancy is compromised. A close monitoring with follow–up battery health checks is encouraged.
A "Replace" test result indicates that the battery — even though it's currently starting your engine — fails to meet the original equipment manufacturer's recommendations.
If you decide to buy a new car battery after receiving a Marginal or Replace result, you can get more information on battery products via our Battery Selector (near the top of this page). With this tool, you can choose your battery, get a quote, and set up an installation appointment — all in one place. Plus, we offer special internet–only car battery prices, so you're sure to get a great price.
Quality people, parts and service — these are the three main reasons we think we're the best when it comes to batteries and electrical systems. We have ASE–certified technicians and always follow Motorist Assurance Program (MAP) guidelines when maintaining and making repairs, making sure your vehicle will start. We offer a complete line of batteries, and we sell more battery products than any other retailer. Plus, our service is unmatched — we make it easy to buy, set up an appointment and install your battery and electrical systems on your schedule, with affordable pricing.
On-Time Guarantee
Your time is valuable. So we guarantee your car will be ready when we say it will, or we'll give you 10% OFF your next purchase.*