KEEP YOUR TIRE PRESSURE IN CHECK
TIRE PRESSURE AND TPMS SERVICES CAN HELP PREVENT TIRE DAMAGE DOWN THE ROAD
WHY MONITORING TIRE PRESSURE IS IMPORTANT
Maintaining good tire pressure helps you get the most out of your tires. That's why we recommend checking tire pressure at least once a month. When your tires are inflated properly, you'll notice a smoother ride, better fuel economy, and that your tires will last longer. When you visit Tires Plus for any auto repair service, we'll check your tire pressure and inflate them for free, so your tires perform at their best.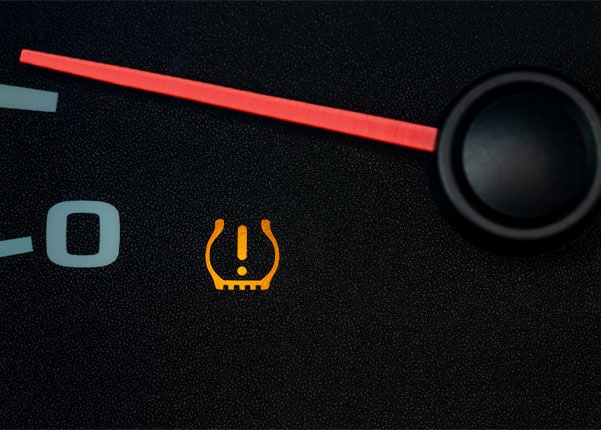 WHEN TO CHECK TIRE PRESSURE
If you want to help prevent the risk of low tire pressure, you should make checking your tire pressure part of your regular maintenance routine. We recommend checking your tires at least once a month. Aside from this, you should also check tire pressure:
When the temperature drops. Tires can lose 1-2 PSI for every 10℉ drop in temperature. In cases of extreme temperature drops, make sure to check if your tires need to be refilled.
When you hit a curb. Catching a curb wrong or sinking into pothole is not good on your tires. Anytime this happens, checking your tire pressure can alert you to damage, like punctures or a dented rim, that may need repair.
When your car sits unused. When your vehicle sits unused for weeks at a time, tire pressure can drop significantly, so it's worth checking before taking an idle car back out on the road. With long breaks in-between driving, stopping in for a Complete Vehicle Inspection can help ensure everything's in working order.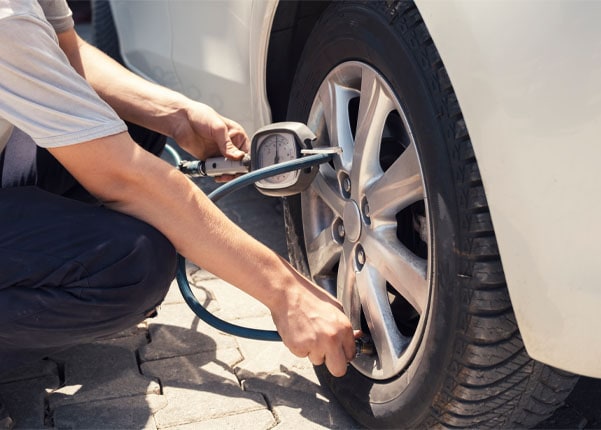 WHERE TO CHECK TIRE PRESSURE
If you have a tire pressure gauge on hand you're already halfway there! The next step is to locate your tire's valve stem. The valve stem is a small tube installed through an opening on the wheel rim. From here you can connect a tire gauge to check tire pressure or use an air compressor to reinflate your tires, just remember to reinstall the valve stem cap.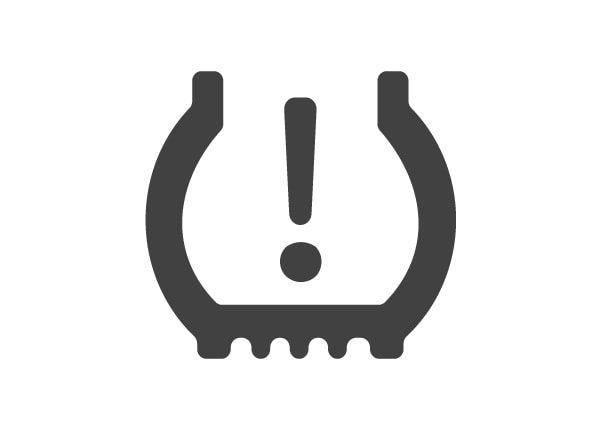 HOW YOUR VEHICLE SENSES LOW TIRE PRESSURE
Most vehicles come equipped with the technology to warn drivers when tire pressure is too low. The National Highway Traffic Safety Administration (NHTSA) requires all vehicles made after 2007 to come equipped with a Tire Pressure Monitoring System (TPMS) warning system. The TPMS light on your dash is part of a safety warning system that wirelessly monitors tire pressure through a direct sensor in your tires usually attached to the valve stem or an indirect system that typically uses wheel speed data to determine differences in tire pressure. If your TPMS light comes on, it's telling you something— don't ignore it!
SCHEDULE AN APPOINTMENT
GET YOUR RECOMMENDED TIRE PRESSURE
IF YOUR TIRES ARE NOT PROPERLY INFLATED, YOU COULD BE RISKING:
Your safety. Underinflated tires can cause catastrophic tire failure, leading to accidents.
Your tire performance. Underinflated tires can lose traction and responsiveness in all weather conditions.
Lower fuel economy.1 Underinflated tires make your vehicle work harder and use more fuel.
Increased tire wear. Underinflated tires can wear out your tires faster.
IF YOUR LOW TIRE PRESSURE LIGHT IS ON, HERE'S WHAT IT MEANS:
YOUR LOW TIRE PRESSURE LIGHT IS BLINKING
If your TPMS light blinks 3-5 times and then turns solid, your system is malfunctioning and requires some type of service. One or more of your TPMS sensors are not communicating with the system. If your vehicle sensors need service or the system needs to be reset, you can get help from our professional technicians at your nearest Tires Plus.
YOUR LOW TIRE PRESSURE LIGHT IS SOLID
If your TPMS light illuminates and remains sold, you have a pressure issue inside your tires based on the manufacturer's recommended tire pressure. You can find the recommended tire pressure on the tire placard sticker, located on the driver's side door jamb or on the gas tank door. You can reinflate your tires on your own or stop by Tires Plus where we'll check and inflate your tires for free.
WHEN SHOULD YOU SERVICE YOUR TPMS SENSORS AND VALVES?
TPMS sensors are battery powered and can usually last around 7-10 years and/or 100,000 miles. The battery inside the sensor isn't replaceable, so when you have one sensor replaced due to battery failure, it's recommended you replace all other sensors that have a low battery reading.
A proper TPMS service requires a special tool and a reset of the sensor system in your vehicle, so make sure a professional mechanic, like your trusted technician at Tires Plus performs this service. You can rest easy knowing Tires Plus only carries the highest standard TPMS sensors that work with nearly all of the vehicles on the road, so we have you covered.
Maintaining the TPMS sensor installation components is also very important in preventing air loss that could cause the solid light to come on. Your TPMS sensor comes equipped with a metal or rubber valve stem, and each valve has specific components that need to be replaced each time you have new tires installed or during a tire repair. Ask a teammate for more details.