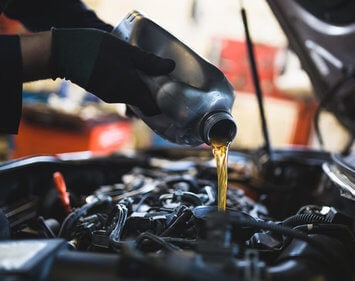 Do you know your car's mileage off the top of your head? Next time you hop behind the wheel, check the odometer. If it reads more than 75,000 miles, you might want to consider switching to high mileage oil at your next oil change. Here's why.
Why High Mileage Oil?
Millions of drivers are keeping their aging cars longer than ever. Are you? The average age of most vehicles on the road is about 12 years.
When a car gets older, it usually shows. Maybe the engine sounds louder than it used to. Maybe you've noticed that you're filling up the gas tank more often. Maybe there's a growing oil stain in the driveway.
These are signs of engine wear you shouldn't ignore, and all symptoms that high mileage oil could help soothe.
What Are the Benefits of High Mileage Oil?
As vehicles get older and their engines age, moving parts can wear down and start to need even greater lubrication than before.
High mileage oil is infused with a unique blend of conditioning agents and additives that regular oil doesn't have. The agents and additives help:
Slows leaks by conditioning engine seals that may have degraded over time
Break up and dissolve sludge left behind by other oils
Reduce oil loss caused by burn-off
Improve your fuel efficiency
Reduce general wear and tear on older engines
Using high mileage oil in an older engine is like putting lotion on dry hands. High mileage oil soothes cracked and brittle engine pieces, adding a boost of flexibility to the parts that need it most.
Is High Mileage Oil Worth the Cost?
Although high mileage oil costs a bit more than conventional oil, the benefits far outweigh the added expense, especially for older cars.
That pesky leak in your driveway might finally go away. Your engine may sound quieter. But most importantly, your car will get the attention it needs to keep you on the road, toting the kids to school and getting to work on time.
If your car doesn't show signs of engine wear or motor oil issues, it's up to you whether you want to invest in a high mileage oil change. High mileage oil doesn't hurt and will help prevent oil leaks from starting, but it's not right for every vehicle. When in doubt, check your vehicle manufacturer guidelines.
Visit Tires Plus for a High Mileage Oil Change
Talk to a local Tires Plus technician to see if your vehicle could benefit from a high mileage oil change. We'll take the time to explain what makes "high mileage" different from "standard" oil so you can make the best choice for your car. At Tires Plus, you're in the driver's seat!