Run-Flat Tires
Peace of Mind, Wherever You Drive
Flat tires don't have to be a fact of life. Get run-flat tires at your local Tires Plus and you can drive up to 50 miles, even after a complete air loss.


Bridgestone Run-Flat Tires
What if you knew you wouldn't be stranded if you had a flat tire. Would you drive with more peace of mind? Worry less about your new driver out there on the open, unpredictable road? Take more road trips with the family? With Bridgestone run flat tires, that daydream can be a reality. Even when your tire suffers a puncture or a complete air loss, you'll still be able to drive up to 50 miles at speeds of up to 50 MPH. That means you have extra peace of mind and extra time to reach a safer destination, or your local tire repair shop for a flat tire fix. Learn more about the cutting edge technology behind Bridgestone run flat tires and get a quote online to see which run flat tires are available for your vehicle type. More peace of mind is just a few clicks away!
Did You Know?
With Run-Flat Tires, you can drive at least 50 miles
Run Flat Technology
Shop run flat tires online and at your local Tires Plus. If you're not sure where to start, talk to one of our tire specialist. They work with you to determine the best run flat tire for your budget, climate, and vehicle. Feel free to make an appointment or stop by a Tires Plus near you today!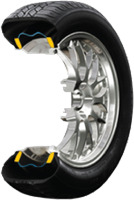 KEEP GOING
Each Bridgestone run flat tire has a special support ring inside it. This ring supports the vehicle after a loss of air pressure, allowing the tire to function and the vehicle to continue on the road.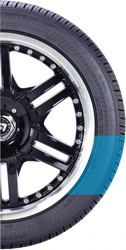 Keep Cool
Heat is not a friend to flat tires. By having a protrusion (cooling fin) on the side of a tire, the movement of air around the tire's sidewall is accelerated as the tire spins. This has a cooling effect on the tire's surface area.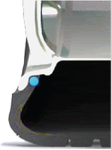 Keep It Together
Specifically designed beads are used to prevent the tire from separating from the wheel when tire pressure is lost, keeping your ride smoother and safer.