Yokohama Tires Near Me
Performance & Speed, No Matter the Season


Find the Yokohama Tires You Need at Tires Plus
When you need performance tires you can count on, look no further than Yokohama Tires from Tires Plus. With everything from Yokohama truck tires to summer tires, and even run flat tires, Tires Plus will help you find tires that match your vehicle, budget, and driving style. Come to your nearest Tires Plus today to get the expert advice and recommendations you need from one of our experienced tire technicians.
Choose Your Yokohama Tires
You want to know that you're getting the right tires at the best price, and that's exactly what you'll get at Tires Plus. Maybe you need to buy new winter tires, or perhaps you're looking for Yokohama sport tires. Whatever your needs, Tires Plus technicians can help you choose the Yokohama tires that ensure your driving experience is safe and enjoyable for a long time to come.
Tires Plus carries a variety of Yokohama tires, so come in today to see our selection and choose the best tires for your vehicle.
Yokohama Parada Tires: With innovative technology built right in, these tires are designed to increase acceleration and braking capabilities. You can enjoy your ride knowing that Yokohama tires are made to keep you safe on the road.
Yokohama Geolander Tires: Off road conditions are no match for this powerhouse tire. Built for durability, these all terrain tires will keep you rolling through all of life's adventures with ease.  
Seasonal Tires: Head to Tires Plus to find winter tires, summer tires, and even all season Yokohama tires. Through rain, shine, or snow, Yokohama tires can keep your car, truck, or SUV on the road.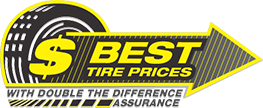 I Need Yokohama Tires Near Me
If you're looking for Yokohama dealers in your area, come to your nearest Tires Plus location! If you're not sure which Yokohama tires you need, our tire professionals can help you choose the best option. To save time, get a convenient and free quote online today! Once you have a price for your new tires online, you can even schedule an appointment to have your tires installed. Start your free quote now!
And, with our Best Tire Price guarantee*, you can be sure you'll get the Yokohama tires you need at the best price. Just find the Tires Plus location nearest you, and they'll help you get the right tires for your vehicle!
Find a Store