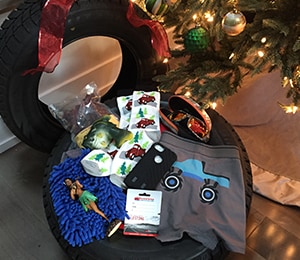 With the holidays approaching, there's a lot of planning to be done: gifts to buy, food to prepare, and travel routes to map. We're big believers that the holidays should be spent with loved ones and not worrying over the perfect present. Read on to discover the perfect gifts to get the truck lovers in your life, so you can cruise calmly into the holiday season.
Blizzak Tires
Give your trucker the gift of going anywhere they'd like with a new set of Blizzak tires. They bite into snow and ice to give you confidence in winter's worst driving conditions.
Phone Case
The only feeling better than rubber meeting the road is rubber meeting your phone. Let your truck lover show off their love with a tire tread phone case.
Beef Jerky
All those joyrides can make a person hungry. Give your truck lover a little snack for the road with some beef jerky to keep on hand.
Hula Girl
Hula into the holidays with a dancing dashboard decoration to keep your truck aficionado company on the road.
Sunglasses
A sweet new set of shades is the perfect gift for the frequent driver who gets the sun in their eyes all too often. Opt for one with polarized lenses to reduce glare.
Truck Boxers
Comfy and cool, these truck boxers give your truck guy the chance to wear his passion even when he doesn't feel like wearing a whole lot.
Trailer Hitch Ball Cover
What happens when you combine your truck lover's passion for trucks with their passion for the great outdoors: an amazing trailer hitch ball cover that they'll want to put on ASAP.
Truck Washing Mitt
Help keep their car looking spotless with this reusable truck washing mitt they can use at home.
Tires Plus Gift Card
In the end, the most important thing to your truck lover is keeping their truck in great shape. Give them the gift of a free trip to Tires Plus to fix up or maintain their truck and they'll love you forever.
Jingle all the way to your next holiday party, knowing you're geared up with the best presents for the truck lovers in your life. Stop by your local Tires Plus to grab a new set of wheels or gift card today!