You probably wouldn't buy the first car you see, so why would you buy the first set of tires you see? When it's time to buy new tires, being picky can pay off. At Tires Plus, we're here to help you understand the tire shopping process and choose the right tire at the right price. Follow along as we break down how to select the very best tires for your vehicle, lifestyle, and budget!
Step 1: Figure out your tire size.
Tires come in different sizes, and it's not as simple as small, medium, and large. Your tire size is a number from 13 to 22. That number tells you the wheel diameter in inches. There are a few different ways you can find out your tire size.
Check the informational placard printed on your driver's side door. There you'll find the wheel diameter necessary for your specific vehicle.
Or, examine your current set of tires. You should see a block of numbers and letters on the sidewall of one of your tires. The last number in that code is your tire size. For example, if your tire says P215/65R15, the diameter of the wheel is 15 inches.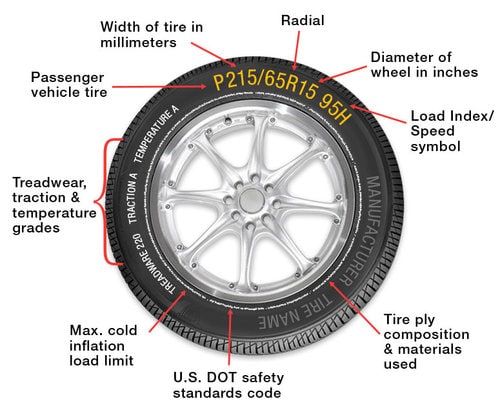 Step 2: Compare tire types. Choose the one that's best for you.
There are a lot of different types of tires on the market. This is the part of tire shopping that can overwhelm some shoppers. Don't let it! Check out this quick rundown of the various types available for most cars, trucks, minivans, crossovers, and SUVs. There are pros and cons to every type, so it's all about choosing the tire that works best for your lifestyle, environment, and priorities.
All-Season Tires
Pro: These tires are good for mild weather year-round. You'll enjoy a smooth, quiet ride and great fuel efficiency in most seasons.
Con: All-season tires don't perform as well as winter tires do in extreme weather, like sub-zero temperatures or snowstorms.
Winter/Snow Tires
Pro: If you live somewhere that does get sub-zero temperatures, ice, and snow, look into winter tires. These tires are made from rubber that stays supple in the coldest weather. Their deep treads give you traction through whatever slush, snow, and ice you have to conquer.
Con: Winter tires need to be swapped out for summer or all-season tires once temperatures even out.
Performance Tires
Pro: If you have a need for speed and want to take advantage of your engine's horsepower, look no further than performance tires. These tires are perfect for drivers who prioritize speed and performance, and they're often used on sports cars.
Con: Performance tires typically don't last as long as other tires, but what they lack in their tread wear rating they make up for in grip and high performance.
Summer Tires
Pro: Despite their name, summer tires can handle any warm season. They're engineered for superior traction on damp surfaces, so spring and summer showers are no problem.
Con: These aren't your safest bet in winter! These tires are made of rubber that hardens in lower temperatures, so swap them out as soon as the temperature drops.
All-Terrain Tires
Pro: Do you love taking the path less traveled? All-terrain tires can handle surfaces many other tires can't like gravel, dirt, rocks, and snow.
Con: Thanks to the tread design on all-terrain tires, expect a noisier drive than regular all-season tires.
Mud-Terrain Tires
Pro: If you're heading out into deep mud or sand, these are the only tires you want on your vehicle. These are the "bigger and badder" relatives of all-terrain tires, and they have deep, rugged tread to find traction on the slipperiest surfaces.
Con: Mud-terrain tires deliver a noisier ride than other all-season tires, again due to their tread design.
Touring Tires
Pro: Consider touring tires your top-shelf, premium tire. These guys are for the driver who wants a silky smooth, silent driving experience. They handle like a dream and offer superior reliability and longevity.
Con: While touring tires can handle everyday wet and dry conditions, they aren't cut out for extreme weather.
Step 3: Determine your tire budget.
Once you know the tire size you need and the type you want, consider your budget for buying tires. Just like everything else, there is a wide range of prices… so what's the appropriate amount to spend? There's no right or wrong answer to this question. It depends on the driver and the car! Our best advice is to remember that tires are an investment, and an invaluable one at that. Your tires are the only part of your car that comes into contact with the road. Without quality tires, your car can't drive safely or smoothly.
At Tires Plus, we respect your wallet as much as we respect your vehicle. Get a free tire quote before you step foot into our store, with the lowest prices guaranteed online. We will match any locally advertised price on tires and we offer various tire coupons to help you save even more. And did we mention free wheel alignment checks and free tire rotations for life?
Choose the right tires like a pro
If you haven't purchased tires before, the entire process can be intimidating and confusing. By following these steps and learning about your options, you can choose the right tires like a pro! Get an online quote and head into your local Tires Plus today!