Family road trips are terrific for bonding with your kids, escaping your normal routine, and exploring parts of the country you've never seen before.
Before the kids grow up, move out, and set off on road trips of their own, carve out time to take them on one of these six amazing road trips that none of you will ever forget (especially if you take lots of pictures).
Southern California
[caption id="attachment_368" align="aligncenter" width="710"]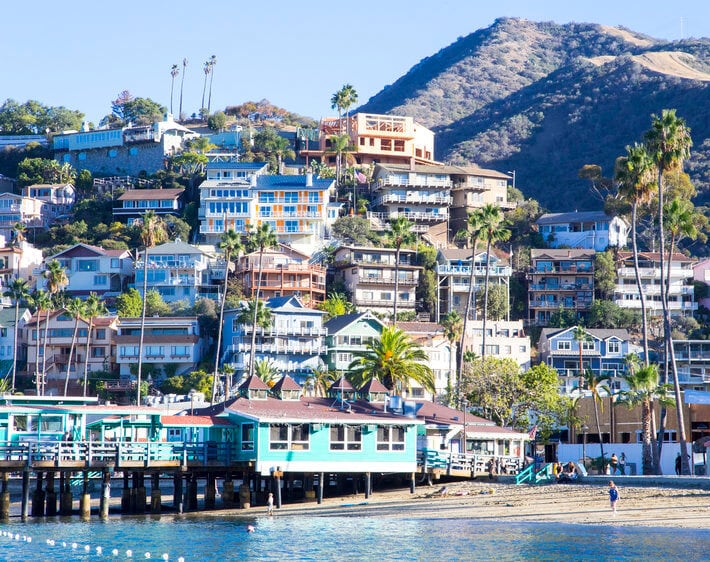 Avalon Harbor, Santa Catalina Island, California[/caption]
Sunshine, mild weather, beaches — what's not to love about Southern California?
For a family-friendly road trip, Southern California ranks among the best destinations in America. Why? Reason No. 1 is the abundance of amusement parks.
Aside from Disneyland (Anaheim), there's Disneyland California Adventure Park (Anaheim), Universal Studios Hollywood (Universal City), Six Flags Magic Mountain (Valencia), SeaWorld San Diego, and LEGOLAND California (Carlsbad).
As if that weren't enough, you've also got the world-famous San Diego Zoo!
Want a break from the amusement parks and the zoo? Head to the beach! Los Angeles, Orange, and San Diego counties — the three biggest ones in Southern Carolina — offer dozens and dozens of beautiful beaches.
And if you want to leave the driving to someone else for a bit, hop on a ferry to stunning Catalina Island, which is just southwest of L.A. This kid-friendly outpost features mini-golf, ice cream shops, dolphin-watching, an eco tour, and much more.
Western South Dakota
[caption id="attachment_369" align="aligncenter" width="710"]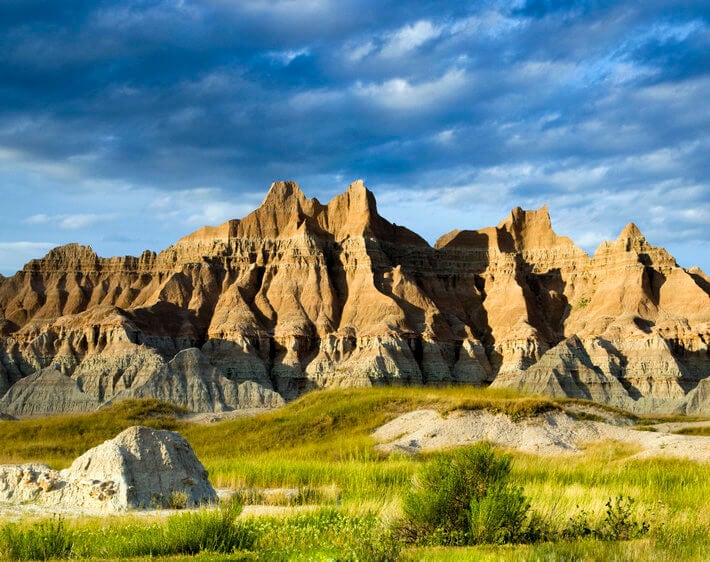 The Badlands National Monument, South Dakota[/caption]
Catch some of America's most photo-worthy scenery and sites in this splendid region of South Dakota.
If you've ever watched a Western, you've probably seen the Badlands. These massive spires of sedimentary rock tower over the South Dakota plains. A quick 2-hour drive west gets you to the Black Hills. There, your kids will be awestruck by Mount Rushmore, a huge carved sculpture of presidents they might recognize from history class! If you have time, head south to see Wind Cave and Custer State Park.
Other attractions in the Black Hills area include Big Thunder Gold Mine, the Dakota Discovery Museum, Evans Plunge (water slides and indoor pool featuring naturally warm mineral water from a thermal spring), the Holy Terror Mini Golf Course, the Minuteman Missile National Historic Site, and the Crazy Horse Memorial.
Northwest Wyoming
[caption id="attachment_370" align="aligncenter" width="710"]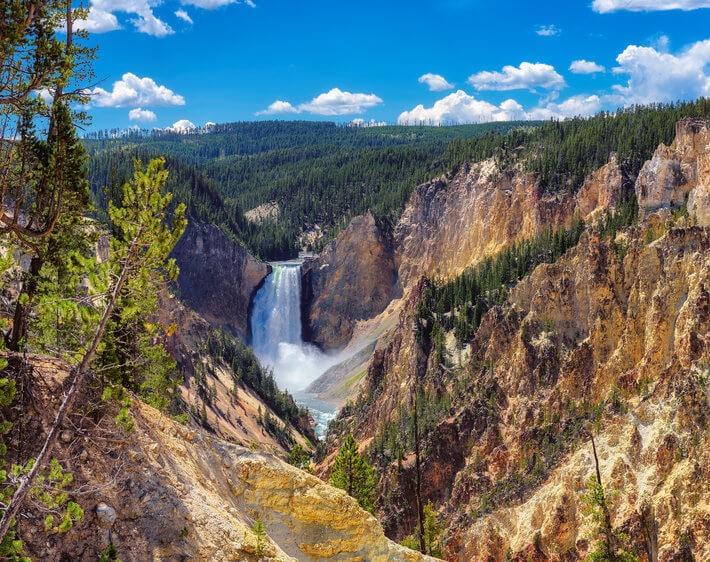 Lower Falls, Grand Canyon of the Yellowstone, Yellowstone National Park[/caption]
Head farther west, about 7½ hours from Black Hills, and you'll reach Yellowstone National Park, which sits at the border of Wyoming, Montana, and Idaho.
Highlights of Yellowstone, the world's first national park, include the Old Faithful geyser, hot springs, an active volcano, mountains, canyons, rivers, forests, plus lots and lots of wildlife. Bison and bears and moose, oh my!
Outside Yellowstone, there are plenty of nearby destinations to put on your road-trip itinerary, like fish hatcheries, state parks, national forests, history museums, and the Grizzly & Wolf Discovery Center. How could any kid or adult get bored with so many fun things to do and see?
If you have the time, it's definitely worth a trip down to Grand Teton National Park, just south of Yellowstone, for even more natural beauty!
Central Florida
[caption id="attachment_371" align="aligncenter" width="710"]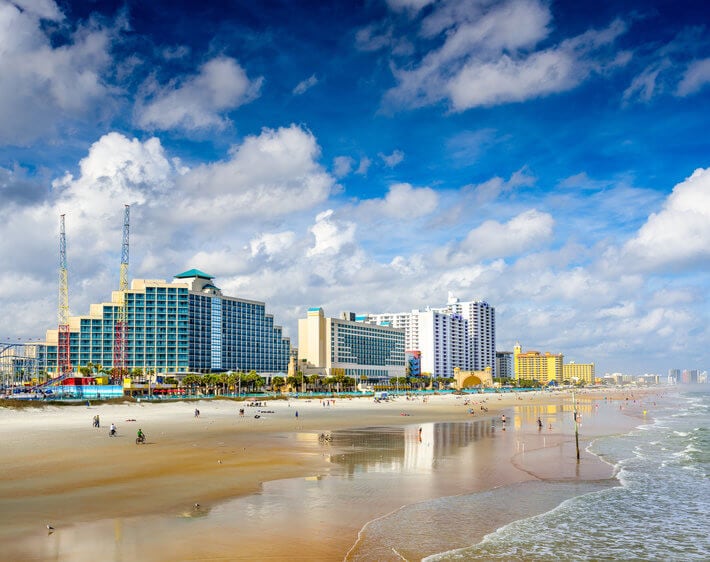 Daytona Beach, Florida[/caption]
No "best places to road trip list" would be complete without Central Florida, which is anchored by Orlando and its array of amusement parks.
The kid-approved amusement parks in and around Orlando, the "Theme Park Capital of the World," include Walt Disney World (Magic Kingdom Park, Epcot, Hollywood Studios, and Animal Kingdom), Disney's Blizzard Beach, Disney's Typhoon Lagoon, Universal Orlando, SeaWorld Orlando, and LEGOLAND Florida.
If you're exhausted after trekking through Orlando theme parks, it's easy to hit the beach. A one- to two-hour drive from Disney takes your family to sandy spots to relax like Clearwater Beach, Cocoa Beach, Daytona Beach, and New Smyrna Beach.
After catching some rays at the beach, you can enjoy an out-of-this-world experience at the Kennedy Space Center, which for decades has been the hub of America's space exploration program. By car, it's about a 45-minute drive from Orlando to what's known as the Space Coast.
Once you've had your space fix, stay along the Space Coast to immerse yourself in activities like fishing, boating, sunbathing, shopping, dining, and turtle-watching.
Washington, D.C.
[caption id="attachment_372" align="aligncenter" width="710"]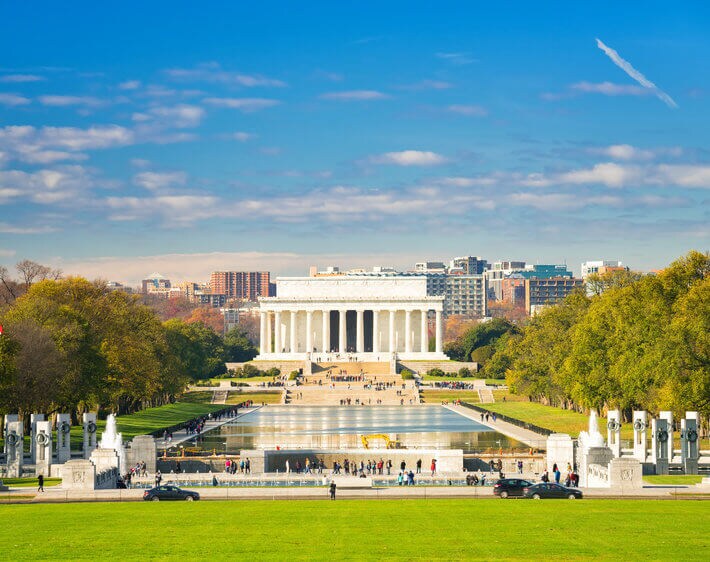 The Lincoln Memorial, Washington D.C.[/caption]
You and your kids will be steeped in history during a visit to the nation's capital.
In addition to the must-sees — U.S. Capitol, White House, Washington Monument, Lincoln Memorial, Martin Luther King Jr. Memorial, and Jefferson Memorial — you and the family can head to the National Zoo (home of the pandas!), the U.S. National Arboretum, the International Spy Museum, or the U.S. Botanic Garden.
The Smithsonian Institute also maintains an extensive network of museums, including the National Air and Space Museum, the National Museum of Natural History, and the National Museum of American History. A whopping 17 of these museums are located in Washington D.C., with 11 located in the National Mall alone.
One of the best things about visiting D.C. is that admission to so many of the attractions is free or very inexpensive.
Colonial Williamsburg
[caption id="attachment_373" align="aligncenter" width="710"]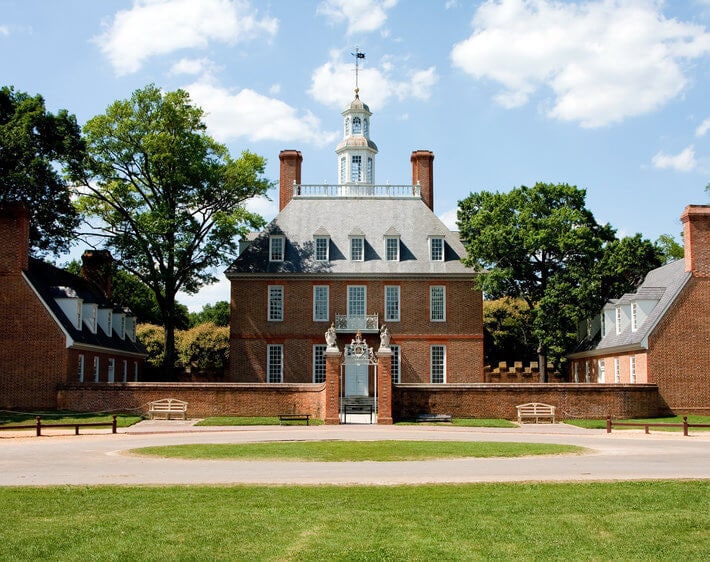 The Governor's Palace, Colonial Williamsburg[/caption]
After you've checked out all the museums in D.C., you can go to the world's largest living history museum: Colonial Williamsburg, Virginia. This 18th-century city includes more than 40 historic sites and two art museums.
Enjoy a leisurely, horse-drawn carriage ride, meet "real" figures associated with 18th-century Williamsburg, and watch blacksmiths transform red-hot iron into tools and hardware! Young or old, everyone in the family will gain a new perspective on the American story after a visit to Colonial Williamsburg.
Following your step back in time, you and your kids can play around at the nearby Busch Gardens Williamsburg Park or Water Country USA water park.
The kiddos won't stay young forever. Take them on an adventure of a lifetime and help make sure car troubles don't bring the fun to a grinding halt. Visit your local Tires Plus for a Courtesy Check and we'll make you aware of any potential issues that could get in the way of great family memories. Wherever you want to go, we'll help you get there with affordable, reliable options for all your car's needs.