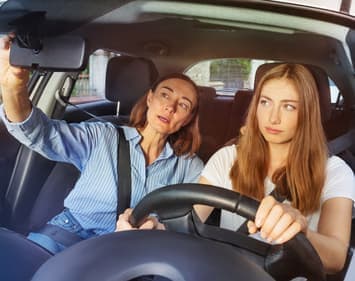 Teaching a teen to drive can send a shiver down most parents' spines. It doesn't help that "the risk of motor vehicle crashes is higher among teens aged 16–19 than among any other age group," according to the Center For Disease Control.
The good news: with proper driver's ed and a few ground rules, you can help prepare your teen for the road ahead. Teaching your teen to drive safely, understand basic car care, and build good habits in the very beginning can help them avoid preventable accidents down the road. Here are the top tips for basic road safety for beginner drivers.
Start With the Basics
Give your teen a tour of the car, and make sure they understand the essential components like dashboard lights, safety features on the vehicle, and what each pedal does! Go over a checklist before starting the car. Make sure you've done the following:
Check the front and rear lights to make sure they work.
Examine the tires, and make sure they're properly inflated and have good tread.
Make sure it has gas and the oil has been checked.
Adjust the seat.
Put on a seatbelt.
Adjust the mirrors for visibility.
Check for any dashboard warning lights. If any of your lights are on, head to your nearest Tires Plus for diagnostics.
Check the brakes, and make sure you are using the parking brake properly.
Take Your Time
Start by practicing in an empty parking lot on a clear day. Teach your teenager the most important requirements for safe driving. Instill good habits initially — as soon as your teen gets in the car, have them put on their seatbelt and adjust the mirrors before they start the car.
Once they start driving, take things nice and slow. Try not to go over 10 miles per hour in the parking lot. Once you've comfortably driven around in the parking lot, you can graduate to driving around low-traffic neighborhoods.
Practice Driving In All Kinds of Conditions
One of the most important driving tips for new drivers is to give them plenty of experience. Once they're comfortable behind the wheel, have your teen drive in the snow and rain as frequently as possible. Just once isn't enough. It's important they know how to keep a safe distance from other drivers, adjust their speed according to posted limits and road conditions, and maintain control of the car.
Be Completely Aware
According to the National Highway Traffic Safety Administration, nine percent of teen motor vehicle fatalities involved distracted driving. Your teenager will not be aware of everything that's going on, so it's up to you to remind them of road safety for learner drivers.
It's critical that you lead by example by never driving while distracted, as well as restricting phone use while in the car. Additionally, encourage your teen to steer clear of using the radio or Bluetooth for audio during their first few months of driving.
Keep in mind that most states now have a hands-free law — meaning using a cellphone or other handheld device is prohibited while driving. Teach your new driver to make it a habit to turn off their phone before turning on the car.
Check for Blind Spots
If your car has rear cameras or warning lights, disable them so your teen doesn't become dependent on them. There are spots they can miss, so have them learn how to look over their shoulder while backing up.
Make sure your teen is aware of the cars in front of them and is watching intersecting streets to see cars that might suddenly come out. When they're backing the car up, remind them to check all of their surroundings and their blind spots.
Help Them Know and Understand the Vehicle
While there's no need to teach your teen to be a mechanic, they need to know vehicle maintenance basics, such as checking the oil. For most vehicles:
Turn off the engine and pop the hood.
Take out the dipstick and wipe it off.
Reinsert the dipstick until it's all the way in.
Take out the dipstick and examine the level of oil.
If it's beneath the minimum spot, it's time for an oil change.
Regularly remind your teen to check the oil, and instruct them to take the car to get the oil changed before the check engine light comes on. Changing the oil is one of the most important preventative maintenance services your teen can schedule for their vehicle. Ignoring routine oil changes can cause unnecessary vehicle issues, such as excess engine wear, damage, and even complete engine failure. The more you emphasize car care and the reasons behind it, the better it'll stick.
Stay on Top of Maintenance with Tires Plus
Teaching your teen to drive is one thing — but teaching your teen proper vehicle maintenance is an entirely different challenge! Fortunately, Tires Plus makes vehicle maintenance easy. Your local Tires Plus is a one-stop auto repair and maintenance shop that makes it easy to get the services you need all in one place.
And Tires Plus is making car care even simpler with the Tires Plus app. Track your previous maintenance services and get reminders for upcoming suggested services according to your vehicle manufacturer's maintenance schedule. Schedule a visit to your nearest Tires Plus location today to help keep your new driver safe on the road!