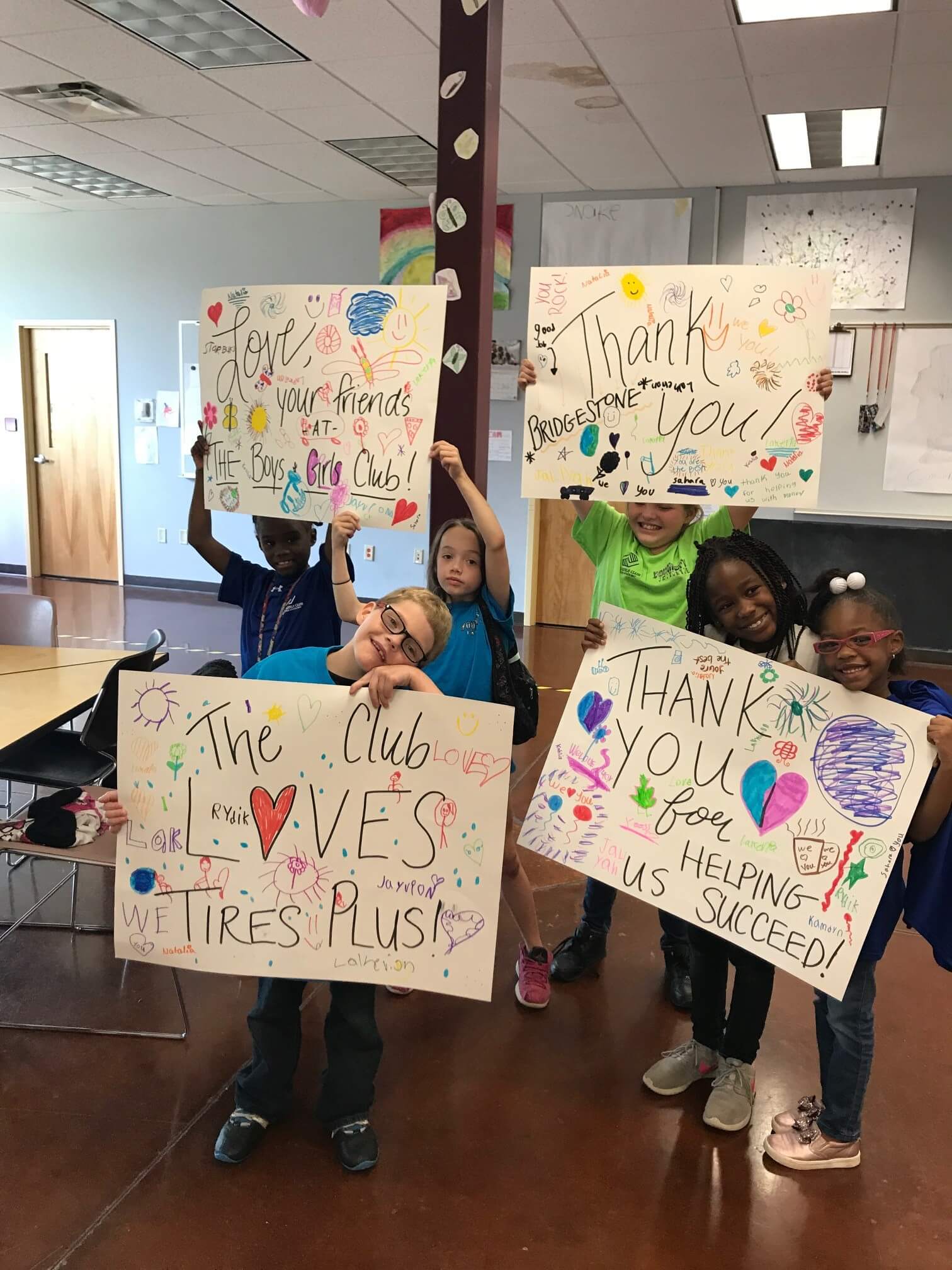 A remarkable $1.4 million was raised for Boys & Girls Clubs of America (BGCA) during Tires Plus Total Car Care's third annual Driving Great Futures campaign. Over the course of this three-year partnership, $3.8 million has been donated to help create safe places for America's youth to build positive relationships and explore their full potential during important out-of-school hours.
If you got a battery test or oil change between August 10th and October 8th at your local Tires Plus, you contributed to the success and safety of America's youth! Customers also had the option to round up their purchase and donate to BGCA during this time.
"I'd like to thank everyone who contributed to the success of this promotion, especially our loyal customers for their generous support and our store teammates for leading the charge," said Joe Venezia, President, Bridgestone Retail Operations. "A high-quality Club experience, combined with regular attendance, drives positive youth outcomes such as graduating on time, volunteering in the community, being physically active and abstaining from risky behaviors. Through BGCA, we can truly help to drive great futures in the local neighborhoods where we live, work and do business."
"The funds raised truly impact our Clubs and the lives of the children and teens we serve," said Jim Clark, president and CEO of Boys & Girls Clubs of America. "We appreciate all of the work Bridgestone Retail Operations has done to contribute to children and teens across the country."
Kids across America are already benefiting from your donations. At the close of Driving Great Futures, 60 different BGCA Clubs received grants of $10,000 to improve their programs and the lives of their Club's youth.
Grants are helping to increase Club membership, improve Club facilities and supplies, provide increased transportation, and create in-demand internships, camps, and workshops.
Watch the video below to see your donations in action and then read more about their impact at local clubs!
Frank Callen Boys & Girls Club of Savannah, GA
Your generous support made it possible for Savannah's Frank Callen Boys & Girls Club to rebrand its Teen Center and upgrade its technology. Local teens now have access to new technology they may not have access to at home, and all within a safe environment that educates and inspires. Thanks to you, the Club can continue to be a positive, life-changing resource for vulnerable kids and teens in Savannah.
Blackhawk Boys & Girls Club of Rockford, IL
Because you visited Tires Plus, the Boys & Girls Club of Rockford was able to increase its operating hours to include the evenings and weekends. They were also able to expand their safety measures, purchase new supplies, and establish a partnership with the local community to build healthy relationships between youth and law enforcement. More Rockford youth have a safer place to go after school and are receiving the support they need to reach their full potential.
The Salvation Army Boys & Girls Club of Greater Oklahoma
The Salvation Army Boys & Girls Club of Greater Oklahoma put their grant to work right away by expanding programming to include field trips and art workshops. Kids and teens in the greater Oklahoma area now have the opportunity to engage with new environments, try new foods from different cultures, and enhance their understanding and appreciation for the world around them.
At Tires Plus Total Car Care, we're committed to serving our local neighborhoods by doing more than providing the best tire and automotive services we can. It's one of the big reasons for the "Plus" in our name! Driving Great Futures is just one of many ways we're impacting the lives of youth and teens nationwide. Stop by your nearest location to experience the Tires Plus difference today!
To learn more about the Boys & Girls Clubs of America, visit bgca.org.